King Gee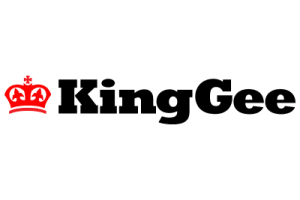 King Gee was established in 1926 in Sydney, where they produced overalls intended for workers. Since then, they have become industry leaders in workwear, developing premium products that have been engineered to ensure comfort, durability and functionality.
King Gee Shoes
King Gee have become synonymous with catchy taglines and workwear designed for the workers – "If They Were Any Tougher They'd Rust", "For A Nation At Work" and "Workwear You Can Trust" – and a range that has developed to follow safety regulations – but also style, making them the number one choice for tradies who are looking for the ultimate in premium, iconic tradie workwear.
King Gee Shoes For Sale
King Gee take pride and care in their products, and here at Tradey's, we are excited to be able to offer a wide range of KingGee workwear – and safety shoes.
If you are looking for safety shoes that have been manufactured in Australia, then KingGee are the best choice – they are all safety Standard compliant, stylish and practical.
What King Gee Safety Shoes Are Right for You?
We have some very stylish athletic-style King Gee shoes available, with high-tech specifications. King Gee have invested heavily in developing workwear and safety shoes that have the perfect blend of durability, safety and style.
KG26410 Composite Toe Sneaker
This sneaker is super lightweight – just 1.5kg per pair. With a composite toecap that meets all the relevant safety standards, this sneaker is non-magnetic and non-conducting. The breathable nylon mesh upper, and the contoured PU and gel footbed (removable) means that it is unbelievably comfortable for everyday wear. The PU trims on this sneaker are abrasion resistant, and the dual density shock absorbing sole protects your feet from impact throughout the working day. As a bonus, when you purchase this shoe, you get a lovely pair of fluorescent laces – free!
Comp-tec Women's Safety Shoe
Designed to be stylish, with a perfect fit for women, the Comp-tec is available in a pink and grey colourway. The dual density sole is SRC tested, so is safe on any terrain, and the composite toecap is non-conductive – so the shoe is heat resistant up to 300 degrees centigrade. The ultimate in comfort, with a breathable nylon mesh upper and a sports gel contoured removable footbed – so you can be on your feet working hard all day, but you know that not only are your feet protected, they are also comfortable.
We Have King Gee Safety Shoes In Stock
Here at Tradey's, we are always looking to stock the very best in workwear, machinery and, well, everything that our hardworking tradies need to be the best.
No matter the job, as a tradie you need to have the best equipment available at the very best prices – and we can help. King Gee work shoes aren't just limited to athletic-style safety shoes, have a look at the brand page to find out more about what we can offer you, like our King Gee overalls.
Don't forget that we offer fast-track shipping for those orders that just can't wait and check out the reviews to see what our customers say about our choice and service.
Tradey's Browns Plains provides the latest in protective workwear that services local areas around Browns Plains. We service areas such as Logan and sell products such as Visitec airwear. Browse our website further or contact us to learn more.
Showing all 8 results